Imagine This Scenario:
You are visiting Australia from the United States. You're having the dream beach holiday on the east coast. It's been the dream vacation you've had for as long as you can remember. You are taking surf lessons and you're finally getting the hang of it. You're making your way through the book you've been meaning to read for months. You end each day with a lovely refreshing Gin & Tonic while you watch the moon's reflection on the water.
Sounds idyllic right?
Then one day…
You head off to the shops to pick up some groceries and you're in a car accident. You aren't seriously hurt but you have a broken leg. All of a sudden your holiday plans change. In such an unfortunate event, you can seek a renowned automobile accident lawyer to help you get your compensation.
Statistics are consistently showing that the highest risk to travelers are traffic related injuries. According to a recent study done between 2007 and 2009 by the US Department of State on American travelers and expatriates, 32% of deaths reported were related to road accidents, learn more by reading the reports of the most recent FL accidents at the link.
OR
You get a phone call from your family in the United States who tell you: "Mom's in hospital. She has had a heart attack. The doctors … well, we don't know what's going on." All of a sudden your holiday plans change.
OR
You are exploring the nearby rock pools and don't see the very venomous blue-ringed octopus in the shallow water. It stings your foot. You're airlifted to hospital. All of a sudden your holiday plans change.
OR
You're enjoying those surf lessons so you decide to try it on your own. You head out early in the morning, but you don't notice the shark that's been lurking for the last hour or so. He takes a bite out of your surfboard and part of your leg. (O.K., so this is an unlikely scenario, but you never know… sharks like the tourists in Australia.) All of a sudden your holiday plans change.
If you can't afford travel insurance, you can't afford to travel.
I am a BIG fan of World Nomads.I've used them for the last two years for my various jaunts overseas. Thankfully I haven't had to use them for any claims, BUT I do know of travellers who have and they allrecommend them for their stellar customer service.
When I have had a question on something weird, prior to travel, they are quick to respond and they don't make me feel like an idiot for asking.
5 Reasons I Recommend WorldNomads.com
The product is straight forward and it is very easy to purchase.
You know exactly what you are getting, before you hit the 'buy' button.
They aren't 'sleazy insurance guys'. I would not be handing over my hard earned money if they were!
Some credit cards cover travel insurance but if you look at the fine print, they may cover only the basics. I looked at my credit card and it does cover travel insurance but only the basics and if Murphy's Law is anything to go by…. So I get my coverage through WorldNomads.com
There are a ton of 'travel insurance companies' out there. I've done my research and found WorldNomads.com to be the most robust, easy to use and they cover ALOT. (Even walking over three mountain ranges in Spain and what spectacularly things that may go wrong with that wander!)
Travel Insurance: Simple & Flexible
Travel Insurance: Simple & Flexible
You can buy and claim online, even after you've left home. Travel insurance from WorldNomads.com is available to people from 140 countries. It's designed for adventurous travellers with cover for overseas medical, evacuation, baggage and a range of adventure sports and activities.
7 Things You Should Know About Travel Insurance from WorldNomads.com
5 More Reasons to Buy Travel Insurance From World Nomads.com
They are backed by specialist insurers and global assistance partners
You can buy online, even if you've already left home
You can buy more cover and claim online while travelling
They covers a range of adventure sports and activities
In purchasing, you can give a little back and support a community development project
Ready to travel? Start here…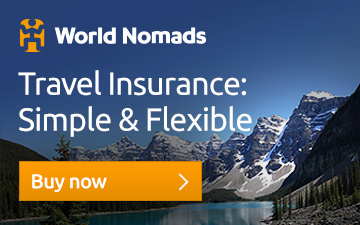 PLEASE NOTE: Affiliate links were used in this post. I do not promote any brand I have not used or experienced myself or had recommended highly to me. All opinions are my own. Please follow our advice at your own risk. By clicking these links allows this website to continue running. For that, I thank you.