I've been travelling for over 25 years. In that time, I've narrowed down the companies I love working with and have even discovered some new one that have surpassed my expectations since travelling full time. These are the brands listed below.
If you're looking to book your next adventure, try one of the brands listed below. Not only are they great brands, but I'm proud to be affiliated with these brands. That means that for every adventure you book through the links below, I make a little money to keep this business going. It's no additional cost to you, but boy it means a lot to me if you use it. It means I can continue providing great content to you.
---
BOOKING.COM
We have used Booking.com for so many trips.
From Santa Fe in the United States, to the Great Ocean Road in Australia.
We've always found them easy to use and trouble-free. Better yet, they are always honest in their accommodation representations.
If you haven't tried them yet, maybe now is the time?
---
SKYSCANNER
I LOVE Skyscanner.

I have been using it for months now and it's a great search engine for flights, hotels and cars. I'd consider it's the best out there. It searches multiple agencies and gives you the best price and when I've checked elsewhere, it's usually the best deal around.
---
EXPEDIA
Who hasn't used Expedia to book their travels? Expedia has provided me with budget-friendly options every time I've researched a getaway. I can't tell you how many trips I've booked using Expedia. (TONS!)
I'm so proud to be affiliates for Expedia. They are a trusted format with experienced customer service behind them. And they've saved my ass quite a few times too!
I hope you use this link to book YOUR next trip away.
---
Who doesn't love TripAdvisor?! (We love it so much that we're classified in the Top 2% of Contributors by TripAdvisor.)
We've been using this resource for years. We've found great bargains and hidden gems each and every time we've used it. From hotels, to restaurants, to interesting things to see/do along the way. I love TripAdvisor.
It's invaluable when travelling.
PLUS: Since we've been contributing ourselves over the years, we've earn ourselves a Top Contributor badge.
---
Have you have tried AirBnb?! It's awesome!
We've used it a few times now and been delighted every time. More often than not, we've even found them cheaper than hotels. With that, you get a full house/apartment to use with all the amenities and less than you would for a hotel room. And when you're a full time traveller or even someone traveller for more than a week, the use of a washing machine & dryer is priceless!
Need more incentive to try AirBnb? Here's a credit for your first stay. Simply click on the link and the credit is yours to use for your first AirBnb experience.
---
Compare 900 companies at over 53,000 locations. Best price guaranteed. Rentalcars.com connects you to the biggest brands in car hire.
When doing a search for a car rental, I keep coming back to Rentalcars.com. They provide the competitive pricing I am looking for and I trust their brand. I love choices.
---
From the Park 'N Fly website: When it comes to parking at the airport, proximity doesn't equal convenience. Travelers often have to hunt for parking, haul their luggage for miles through a dark parking lot and pay high fees for the "convenience."
At Park 'N Fly, we offer More than just parking™ with our great service and convenience. We pick you up at your car in 5 minutes or less and drop you off right at your terminal.
It's a lot more for a lot less, with no walking and no hassle. In addition, many of our lots offer special services like car washes, oil changes, pet boarding and much more.
---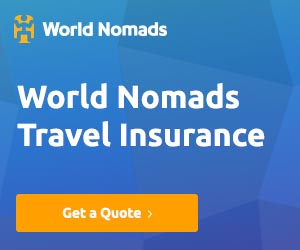 WORLD NOMADS
Travel insurance: simple & flexible
You can buy and claim online, even after you've left home. Travel insurance from WorldNomads.com is available to people from 140 countries. It's designed for adventurous travellers with cover for overseas medical, evacuation, baggage and a range of adventure sports and activities.
BONUS REASON: World Nomads are the preferred insurance carrier with most full time travellers, including this blogger. =)
NOTE: Affiliate links were used in this post. We do not promote any brand we have not used or experienced for ourselves. All opinions are our own. Please follow our advice at your own risk. By clicking these links helps support the Travel Far Enough website as we get a small payout from links, when you purchase from them. For that, we thank you.